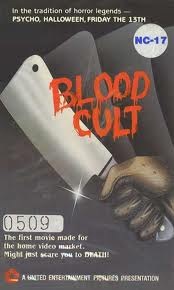 Title: Blood Cult
Release Date: May 1985
Filming Location: Oklahoma
Budget: $27,000
Blood Cult (1985) is an american shot-on-video occult slasher horror movie. It's known for being one of the first movies to go direct to VHS. A trend that became extremlely popular and spawned hundreds of low-budget horror films in the 80s to early 90s for rental at video shops.
A mysterious serial killer is killing several female co-eds on and off a college campus in Oklahoma and the only clues are gold medallions left by the bodies. A grizzled police detective sets out to find the killer, but is unaware that all the killings are connected to a Satanic cult. The detective, Ron, turns from the hunter to the hunted when he sees that no one around him can be trusted, not even his own daughter. (Written by matt-282 on IMDB)
Reputation
Edit
Being one of the 1st horror movies to go direct-to-video. This became very popular and profitable for the low budget film makers...Being shot on Video.
"This film is best remembered for being the first film produced in order to go straight to VHS, which we all know became a very profitable venue for producers. In the film, sorority girls are being chopped up all over a small town so the sheriff must try and figure out what's going on. After some research he finally realizes that a Satanic cult is behind the murders. Outside the historic claims to the film there's really not too much here, although I must say that the movie, while pretty bad, never got too boring. The low budget (apparently 27-thousand) adds a certain charm to the film but the screenplay is still rather weak and we get some incredibly bad performances that don't help matters. There are several childish death scenes with all sorts of blood and guts but even the special effects aren't that special. After reading a few interviews with the director and producer it's clear that they were interested in making money and I think that's easy to see here. This really comes off as the type of film where people are wanting to make cash and there's no real effort to make anything really good. I will admit that the movie is certainly a lot better than a lot of direct to VHS titles but that's still not saying much." - 13 October 2008 | by Michael_Elliott on IMDB
Ad blocker interference detected!
Wikia is a free-to-use site that makes money from advertising. We have a modified experience for viewers using ad blockers

Wikia is not accessible if you've made further modifications. Remove the custom ad blocker rule(s) and the page will load as expected.