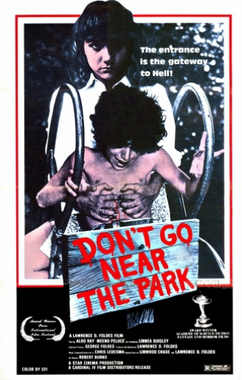 Don't Go Near the Park (also known as Curse of the Living Dead, Nightstalker and Sanctuary for Evil) is a 1981 American horror film directed by Lawrence D. Foldes. The film gained notoriety when it was successfully prosecuted in the UK and placed on the video nasty list.
After being cursed by their mother, a caveman brother and sister are forced to live their lives by preying on young people in a park and devouring their entrails in order to stay young. After 12,000 years of killing they attempt to lift the curse and become immortal by finding a virgin's soul they can sacrifice, with the brother fathering a daughter for that purpose.
Directed by Lawrence D. Foldes
Produced by Lawrence D. Foldes
Written by Linwood Chase Lawrence D. Foldes
Starring Aldo Ray Meeno Peluce Tamara Taylor Crackers Phinn Linnea Quigley Chris Riley
Cinematography William DeDiego
Edited by Dan Perry
Distributed by Cardinal IV Film Distributors

Release dates
1981
Running time
80 minutes 

Country United States
Language English Aldo Ray as Taft Meeno Peluce as Nick Tamara Taylor as Bondi Barbara Monker as Patty / Tra / Griffith's Wife / Petranella Crackers Phinn as Mark / Gar Linnea Quigley as Bondi's Mother Chris Riley as Cowboy
Ad blocker interference detected!
Wikia is a free-to-use site that makes money from advertising. We have a modified experience for viewers using ad blockers

Wikia is not accessible if you've made further modifications. Remove the custom ad blocker rule(s) and the page will load as expected.